Our Capabilities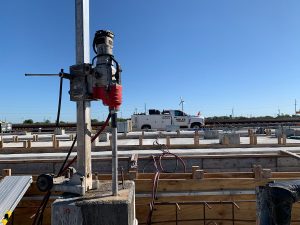 At Holes Incorporated, we safely and effectively create round holes as small as one-quarter inch to 96 inches in diameter for any purpose. We core holes to any depth, at any angle and special diameter bits can be ordered upon request.
Anchor Bolt Installation
Holes Incorporated technicians are highly trained to utilize two types of anchor bolts – Hilti Corporation Anchor Bolts and Drillco Maxi-bolts. Both are excellence products with slightly different applications.
The Hilti anchor bolt is a two-part epoxy application, designed for core drilled holes. The process involves a core drilled hole which is cleaned, and the anchor is installed to the manufacturer's specification. These anchor bolts are ready for use once the epoxy cures (cure times dependent upon epoxy utilized).
The Drillco Maxi-bolt is a mechanical bolt that is installed in a bell bottom cored hole. This anchor bolt application can be set immediately after the drilling and belling process with no cure time required.
Holes Incorporated can help you determine which anchor bolt application is best for your project and specific needs.